Aberdeen Harbor Plans to Invest $37.6m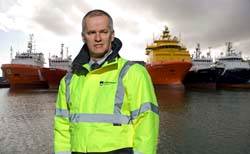 Significant levels of investment this year have paid off, with overall vessel tonnage in 2011 already exceeding the record level of 24.2 million gross tonnes recorded in 2010. This growth in activity is expected to continue into next year.
Of course the instability being experienced by the worldwide economy means that it is difficult to predict exactly what the market will look like next year, but as a key regional resource Aberdeen Harbour has a responsibility to ensure it is in the best possible position to meet these challenges.