ME-GI Engines for World's Largest Ethane Carriers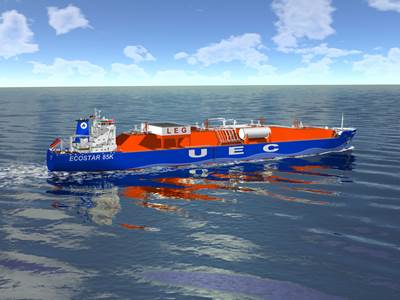 The ME-GI engines will drive VBS1810 propellers, which are the largest Mk 5 models (diameter 7.6 m) ordered from MAN Diesel & Turbo's propeller portfolio to date. To maximize efficiency, the propeller plant employs propeller blades of Kappel design, as well as a fairing cone/rudder bulb system. MAN Diesel & Turbo is also providing each vessel's shaft-alternator system.
Upon construction, the vessels will be the largest ethane carriers ever constructed. MAN Diesel & Turbo also reports that it currently has eight ethane engines on order. The JHW order stems from a letter of intent signed by Hartmann Schiffahrts Gmbh & Co. KG, Jaccar Holdings, HB Hunte Engineering and DNV GL at the SMM 2014 trade fair.
The vessels will also feature another world-first in the form of their innovative 'Star-Trilobe' tanks that consist of three cylinders combined into one. Due to better utilization of the space in the cargo holds, this results in higher efficiency and allows an increase in cargo capacity of nearly 30 percent over similarly-sized vessels with conventional tanks, reducing shipping costs through greater economies of scale.
MAN Diesel & Turbo said it sees significant opportunities arising for gas-fueled tonnage as fuel prices rise and modern exhaust-emission limits tighten. Indeed, research indicates that the ME-GI engine delivers significant reductions in CO2, NOx and SOx emissions. Furthermore, the ME-GI engine has no methane slip.