RV Sally Ride Completes Builder's Trials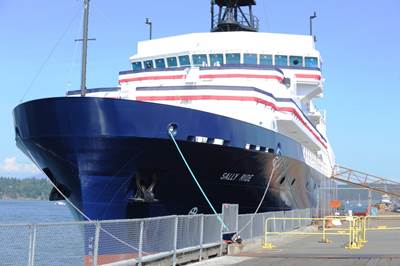 The U.S. Navy's new Auxiliary General Purpose Oceanographic Research Vessel (AGOR), R/V Sally Ride (AGOR 28), has completed builder's trials, February 21, off the coast of Anacortes, Wash.
Builder's trials for Sally Ride tested various shipboard systems and ensured readiness prior to conducting acceptance trials with the U.S. Navy's Board of Inspection and Survey.
The propulsion system, mission-over-the-side handling equipment, anchor handling system and work/rescue boat launch system were among the systems successfully demonstrated.
This is the second ship of its class built by Dakota Creek Industries. The shipbuilder also constructed R/V Neil Armstrong (AGOR 27), which delivered to the Navy in September 2015.
As one of the Defense Department's largest acquisition organizations, PEO Ships is responsible for executing the development and procurement of all destroyers, amphibious ships, special mission and support ships, and boats and craft.