Stena Bulk, Concordia Team to Order 10 Chemical Parcel Tankers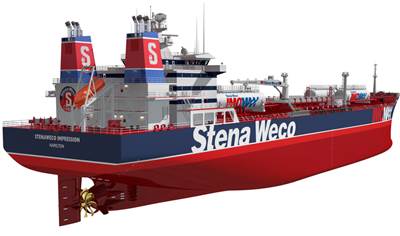 As shipyards around the world struggle for business, Stena Bulk and Concordia Maritime confirmed an order of up to 10 in-house designed chemical tankers. The ships will be built at Guangzhou Shipyard International (GSI) in China with deliveries beginning from spring 2014. When delivered, the 50,000-dwt vessels will be the most sophisticated in the Stena Bulk and Concordia Maritime fleet. The value of the order is $400 million if all ten ships are declared. The main task for the new ships is to cover the increasing demand for transportation capacity within the successful Stena Weco Pool.
"It is with great pleasure we are now getting a new specially designed fleet optimized for our cargo contracts within the Stena Weco Pool" says Erik Hånell, Managing Director of Stena Weco. It is very stimulating that our owners and partners believe in what we have created so far and order these ships that will be commercially managed by Stena Weco, Erik Hånell concluded.