Ingalls Delivers USCG National Security Cutter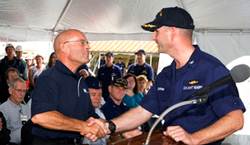 Ingalls has now delivered three NSCs, which are the flagship of the Coast Guard's cutter fleet, designed to replace the 378‐foot Hamilton-class High-Endurance Cutters, which entered service during the 1960s.
The NSCs are 418 feet long, with a 54-foot beam, displacing 4,500 tons with a full load. They have a top speed of 28 knots, a range of 12,000 nautical miles, an endurance of 60 days and a crew of 110.