Designing to the Limit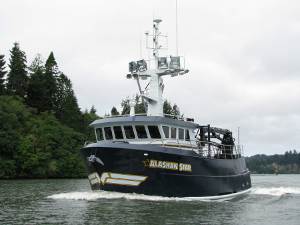 Just as America's Cup racers spent decades tuning the near perfect design formula of the 12-meter boats required by that event, so to have fishermen fine tuned the 58-ft Alaskan Limit seiner. The 58-ft limit was implemented in an early move to limit the size of vessels in the Alaskan salmon fishery. The boats are now used in many fisheries including halibut long lining and crab pot fisheries. The latest incarnation resulting from decades of evolution for this highly adaptable vessel underwent sea trials this month at Reedsport, Ore.
For long-lining there is an aluminum shelter deck with a stainless bait chopper and aluminum table mounted at the stern of the 32 by 26-foot aft deck. The large deck also supports a hydraulic crab davit with a hydraulic ram on the starboard side. A picking boom with hydraulic winch is mounted on deck. Mounted on the mast are an impressive array of lights including four 1500-watt sodium lights and six 1000-watt quartz lights. That is a lot of candlepower.