U.S. Navy Disrupts Pirate Attempt In Arabian Sea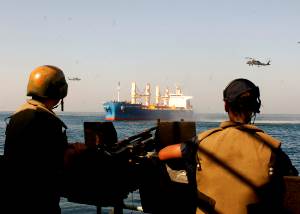 U.S. Naval forces disrupted a pirate attack on M/V Falcon Trader II, a Philippine-flagged merchant vessel, after it reported it had been attacked by pirates March 24. All 20 Filipino crew members of the Falcon Trader II are safe and in control of the vessel. At approximately 10:30 a.m. (local), aircraft carrier USS Enterprise (CVN 65) and guided missile cruiser USS Leyte Gulf (CG 55), conducting operations supporting Operation Enduring Freedom, responded to a distress call from the M/V Falcon Trader II reporting that suspected pirates in a small skiff were attempting to board the vessel.
A SH-60F helicopter assigned to the "Dragonslayers" of Helicopter Anti-submarine Squadron (HS) 11 from the Enterprise and a SH-60B helicopter assigned to the "Vipers" of Helicopter Anti-Submarine Squadron Light (HSL) 48 from the Leyte Gulf were sent to investigate the situation.
Once on scene, the HS-11 helicopter fired warning shots to dissuade the pirates from continuing their attack. Following this, two pirates were witnessed jumping off the bow of the M/V Falcon Trader II and the pirates' skiff fled the area, pursued by HS-11's helicopter.
As the pirate's skiff was attempting to rendezvous with a larger vessel suspected to be acting as a mother ship, the pirates shot at the helicopter with small arms. The helicopter and its crew were not harmed and returned to continue conducting reconnaissance of the scene.
U.S. forces continue to monitor the suspected pirate mother ship. Pirates are known to keep hostages onboard mother ships to prevent counter-piracy forces from acting directly against them.
"This is a great example of the teamwork inherent in a Carrier Strike Group," said Rear Adm. Terry Kraft, commander of Enterprise Strike Group. "We were lucky to be on scene when the attack occurred, and everyone did their jobs well."