New Website for Fireboy-Xintex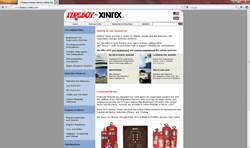 Fireboy-Xintex Inc. announces its new, updated website, www.fireboy-xintex.com.
The new site features an updated look and user friendly design. Product information including fire suppression, carbon monoxide detectors, gas detection for CNG/LNG/ Propane/ Methane/ Gasoline is easily navigated on the highlighted, left-hand side of the screen. Links for product application, technical and product bulletins, manuals/installation instructions and contact information, along with a search bar are located at the top of the homepage.

Fireboy-Xintex since 1973 offers reliable, trouble-free fire detection, clean agent pre-engineered and custom engineered fire suppression and gas detection products for a variety of recreational marine, commercial marine, industrial and truck and bus applications.