USACE Orders Foil-assisted Survey Catamaran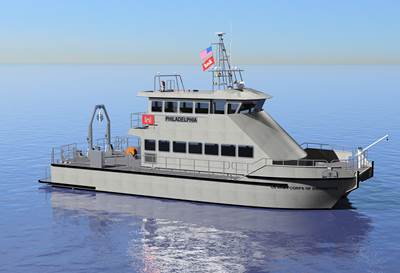 The U.S. Army Corps of Engineers (USACE) has awarded a contract to All American Marine, Inc. (AAM) for the design and construction of a new hydrofoil supported aluminum catamaran survey vessel. The new vessel will replace the aging survey boat, Shuman, to primarily perform survey missions and some dive operations in support of dredging work planned within the Corps'
Philadelphia District
.
The 68- by 26-foot custom aluminum catamaran will be designed by Auckland,
New Zealand firm
Teknicraft Design, Ltd., for whom AAM is the exclusive in North America builder.
The aluminum hull will feature the Teknicraft Design signature hull shape with symmetrical bow, asymmetrical tunnel and integrated wave piercer. A custom aluminum hydrofoil will be fit to span between the sponsons to generate lift of the semi displacement hulls and enhance performance.
Power for the propeller driven vessel will be provided by a pair of
Caterpillar
(CAT)
C18 diesel engines rated 1,001 bhp at 2,300 rpm, with an EPA Tier III emissions rating. Auxiliary power will be supplied via twin Northern Lights C40M.3 40.kW generators. The vessel will have a cruise speed of 28 knots.
The vessel's suite of deck gear includes a hydraulic A-frame, davit, scientific winch, and moon pool with deployable sonar strut. Dive platforms will be fit to the transom of each sponson.