China May Be Installing Radar on Disputed Islands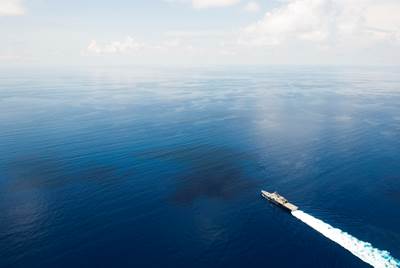 "These poles could be a high-frequency radar installation, which would significantly bolster China's ability to monitor surface and air traffic across the southern portion of the South China Sea." China's Ministry of Defence said in a statement on its microblog that the facilities China had established on the "relevant islands and reefs" included navigation and meteorological equipment. "At the same time, we have deployed necessary defensive facilities on the islands," the statement added, adding the facilities were "legal and appropriate".
Chinese Foreign Ministry spokeswoman Hua Chunying, asked about the report, said she didn't know any details, but that China had every right to build on its own territory and deploy "limited" defensive means there. The world should pay more attention to the civilian facilities China has built like lighthouses, Hua told a daily news briefing.
China previously operated radars on Fiery Cross but the latest installations would give it far more extensive coverage, regional military analysts said. The report comes a day before a visit to the United States by Chinese Foreign Minister Wang Yi, at which U.S. concerns about China's assertive territorial claims will be high on the agenda.
Beijing has been angered by air and sea patrols the United States has conducted near islands China claims in the South China Sea. Hua said the United States was pushing "groundless worries" about freedom of navigation to carry out such patrols.
(By David Brunnstrom, Reuters; Additional reporting by Greg Torode in HONG KONG and Ben Blanchard and Megha Rajagopalan in BEIJING; Editing by Lincoln Feast and Nick Macfie)