Dubai Maritime City Steams Forward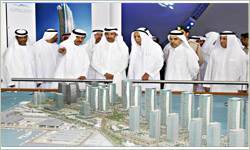 The 121-hectare Business District, estimated to cost around AED 2.5 billion, is at the heart of the visionary DMC project and complements the Marine Industrial District Operation inaugurated earlier this year under the first of the 3-phase development. It will serve as the main business growth engine of DMC, accounting for nearly 90% of its projected total income in 2013. It includes a maritime centre, harbour offices and residences, a marina, an academic quarter and a hotel.
DMC is the world's first maritime cluster with an integrated development encompassing commercial, industrial, academic, residential and lifestyle components.