U.S. Postal Service Salutes Merchant Marine on New Stamps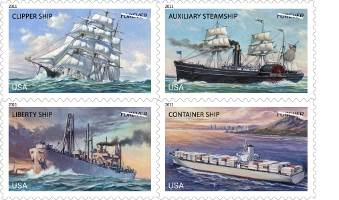 The Postal Service will salute the U.S. Merchant Marine on four forever stamps July 28 at the United States Merchant Marine Academy in Kings Point, NY. Admission is free and the public is welcome to attend the 11:30 a.m. dedication ceremony that takes place in the Ackerman Auditorium, 300 Steamboat Rd.
Since the founding of the republic, the United States has looked to the commercial maritime industry for much of its growth and security. This issuance pays tribute to the U.S. Merchant Marine, the modern name for the maritime fleet that has played this vital role. The four-stamp design on this pane features types of vessels that have formed an important part of this history: clipper ships, auxiliary steamships, Liberty ships, and container ships.
Clipper Ships
Auxiliary Steamships
Liberty Ships
Container Ships
Without the container ship the global economy as we know it would be impossible. These ships, each loaded with thousands of containers measuring either 20 or 40 feet in length, carry virtually all the products and materials that end up in our local stores. "In 2006 alone," according to a maritime history exhibit at the Smithsonian Institution, "about 18 million containers stuffed with cargoes of all sorts were sent on more than 200 million trips by sea, rail, and road to places around the world." Container ships were pioneered in the 1950s by Malcom McLean, a trucking operator from North Carolina. McLean's idea was to eliminate multiple handling costs by standardizing the shape of a container so that it could be easily moved between different modes of transportation: truck, rail, and ship. Intermodal transportation took hold and created efficiencies that transformed the global economy. By the end of the twentieth century, container ships carried nearly all of the world's manufactured goods and exemplified the modern merchant marine.