American MetalCraft Marine Sponsors Seaway Day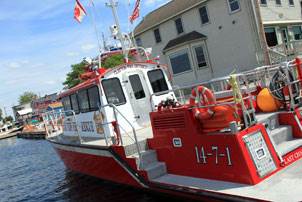 Sailing Seaway Clayton presented by Davidson Auto Group and Lake Ontario Realty announced that American MetalCraft Marine of Clayton, New York has been named title sponsor of Seaway Day on Saturday, June 18.
Those interested in employment opportunities with American MetalCraft Marine are encouraged to bring along their resume on June 18. American MetalCraft is currently accepting resumes for a wide range of manufacturing-sector positions.
"American MetalCraft Marine is a wonderful asset to the community, and their future looks very bright indeed," said Michael Folsom, organizer of Sailing Seaway Clayton. "We welcome them as an event sponsor and key community contributor."
"We are pleased to help assist in bringing the historically significant Lynx to Clayton, while MetalCraft Marine continues to add new chapters to the long history of boat building along the shores of the Saint Lawrence River" said Brendan Cameron of American MetalCraft Marine.
American MetalCraft Marine's high speed patrol boats, fire boats, rescue boats and work boats are all built on the St. Lawrence River, including United States Navy tow boats, which are currently in production on Riverside Drive.