Damen Shipyard Milestone with ASD Tug 3212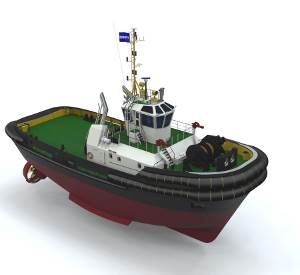 Damen Shipyards have delivered the ASD tugs 'Karloo' and 'Kalarka' to Half Tide Marine Pty Ltd of Australia. The tugs were built to the highly successful ASD Tug 3111 design, which in common with most Damen vessels, has been the subject of constant research and improvement. Including 'Karloo' and 'Kalarka', Damen has delivered twenty tugs built to that design, which will now be replaced by the new ASD Tug 3212. That change represents an important historic milestone for Damen, it recognises the high level of sophistication reached by the ASD Tug 3111 and the need to introduce a new design that incorporates all of the best features of that vessel in a new powerful tug for the future with even greater potential.
The highly developed ASD Tug 3111 hull-form, incorporating a long deep central skeg, is the result of many years of experience, testing and research into the needs of Damen's customers. That has resulted in a harbour tug with an exceptional performance. A bollard pull of 69.3 tonnes ahead and 64.6 tonnes astern, is combined with excellent manoeuvrability to enable the tug to reposition quickly and apply force exactly where it is required, whether pushing or pulling. When towing in the 'indirect mode' considerable additional force can be applied, thanks to precise manoeuvrability and excellent inherent stability.
The wheelhouse design was developed to give good all round visibility and standardised controls aimed at ease of operation and a user friendly layout for operation by a small crew. Noise and vibration levels aboard the ASD Tug 3111 are extremely low thanks to flexibly mounted main engines and flexible drive couplings.
On deck, efficient hydraulically powered single drum winches, positioned fore and aft. The forward winch incorporates the anchor windlass and has a maximum brake holding load of 185 tonnes and a line-pull of 27.2 tonnes.
A Heila HLM 10-2S deck crane is installed to handle stores and equipment and has a maximum lifting capacity of 2 tonnes at a maximum reach of 4.5m.
Fully air-conditioned accommodation is provided for a crew of up to six persons. Single berth cabins are fitted out for the Captain and Chief Engineer and two double berth cabins for the remainder of the crew. The entire accommodation is insulated and finished with durable modern linings. In addition, the wheelhouse has a floating floor and 'Dampa' acoustic insulation on the ceiling. Noise levels throughout the accommodation are extremely low.
When the first new ASD Tug 3212 is introduced the Spring of next year it will become apparent the improvements can still be made to an ASD concept that has proved to be highly successful. Although the design is completely new, Damen has retained everything that is good and proved to be highly successful in the ASD Tug 3111. During the design process for this latest ASD design Damen has worked closely with the clients technical staff to ensure that both the performance and production quality will satisfy the needs of the market for ship handling tugs well into in the future.
During planning and construction a great deal attention has been paid to features that will lead to efficient and environmentally sound production and future maintenance. Many rounded corners have been incorporated in the steelwork and where possible fully enclosed structures are used in areas such as the bulwarks. The engine room has been fitted out with the greatest possible care with regard to; the layout of main and auxiliary equipment, the routing of pipework and electrical wiring. Much thought has also been given to the accessibility of valves and other components, with safety and ease of maintenance in mind.
Among the foremost objectives of the ambitious ASD 3212 design team was to improve the towing characteristics in exposed locations with waves of up to 2.5m high. Assisting large tankers and container ships in those conditions was difficult for the ASD 3111. The new vessel will have a higher bow with a more flared and slender shape and a completely revised hull-form with bilge keels that had undergone tank testing at MARIN.
A new type of heavier 'two-stage' super-absorbent bow fender has been developed to deal with the enormous forces generated by waves when pushing at sea. Also completely new are the cast stainless steel towing bitts and 200 tons offshore rendering / recovery winches developed by Damen Marine Components / Maaskant and designed to withstand a constant tractive force of up to 80 tonnes while working in a swell.
The future owners of the new ASD Tug 3212, will purchase not only a powerful, affordable, tug but also one built to a "state of the art" design. A completely new Praxis MEGA operating and control system will utilise a series of 'multifunctional' touch screens located on a newly designed control console in the wheelhouse and in the engine control room. The LCD screens, intended for use in any lighting conditions, will enable the engine, propulsion, and auxiliary systems to be monitored and controlled with ease. Additional touch screens will be used to display and control the winch and hydraulic systems.
Accommodation aboard the new ASD Tug 3212 will be fully adapted to meet the new Maritime Labour Convention 2006 (MLC 200) requirements, with all cabins above the waterline. The result is a more spacious and comfortable interior in the new Damen Standard colour scheme.