Hansen of FV Northwestern Comes to CBMM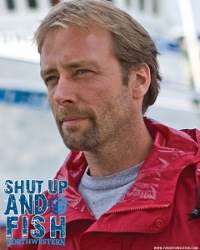 Edgar Hansen of the fishing vessel Northwestern—as featured on Discovery Channel's "Deadliest Catch," is coming to St. Michaels, MD and the Chesapeake Bay Maritime Museum on Sunday, August 14 for the 2nd annual Watermen's Appreciation Day.
Hansen agreed to attend the event after learning of some of the parallels both Alaskan fisherman and the Chesapeake's watermen are facing. "With fishing being my livelihood for over 25 years," said Hansen, "it is a pleasure any time I am able to help others in the industry and support them in the challenges they face."
"Edgar is planning on being with us the entire day," said Gowe. "He'll be participating in the boat docking contest, eating crabs, handing out trophies to our winners, helping with items for our silent auction, and signing autographs for a couple of hours that day."