Imtech: Hybrid Propulsion System for Ferries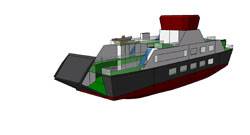 Imtech Marine won a contract to supply the
hybrid propulsion system
, consisting of diesel electric in combination
with battery technology
to the world's first diesel electric, hybrid seagoing ferries. Owned by Scottish company Caledonian Maritime Assets Limited (CMAL), the two vehicle and passenger RoRo ferries will be built by Ferguson Shipbuilders of Glasgow. The vessels will be powered by diesel generator sets, feeding power to a 400 Volt switchboard, which will supply power to permanent magnet propulsion motors. Innovative
green technology supplied
by
Imtech Marine includes
two lithium battery banks of approximately 700kWh, reducing fuel and CO2 consumption by at least 20%. The ferries will be operated by Clyde and Hebrides Ferry Services, CalMac Ferries, and will be designed for the many short routes around the Clyde and Hebrides. With a service speed of nine knots, the hybrid ferries will be able to accommodate 150 passengers, 23 cars or two HGVs.
The vessel design and power configuration additionally realizes 19-24% savings of power input to the propulsion units over a
conventional diesel mechanical solution
. When in port, the ships will completely switch off the propulsion and switch to batteries and ultimately shore connection, which will result in significant cost savings and further reduction of the carbon footprint. Next to a substantial reduction in fuel consumption and CO2 emissions, noise levels will also be reduced. The ferries will charge overnight and in the future the CMAL aims to use
energy from
wind, wave or
solar systems
for charging the batteries, making the vessels even more environmentally friendly. The ferries will undergo a week of sea trials and this will be followed by an additional 21 days to test the vessels on all of the routes operated by CMAL. The first vessel is expected to be delivered in the summer of 2013 and the second a month later.