Rolls-Royce Wins Norwegian Contract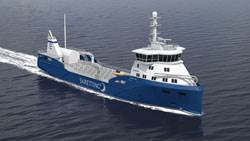 The NVC 401 Forage Carrier, is the latest ship design from the Rolls-Royce Environship range and incorporates a variety of features to reduce environmental impact while increasing efficiency. It is designed to reduce CO2 emissions by up to 40 percent compared to similar diesel powered ships.
This is the latest in a series of recent orders for Rolls-Royce LNG powered ships, which includes the world's first gas powered tugs, coastal cargo ships and passenger ferries.
The NVC-401 LNG forage carrier will be owned by Eidsvaag AS and on delivery in 2013 will carry pelletised fish feed in bulk for Skretting AS to fish farms along the Norwegian coastline.
STX OSV in Brattvåg, Norway, has been chosen to build the 75m long vessel with the hull sourced from the STX yard in Romania.
On arrival at the storage location at a fish farm the ship will hold its position using its DP system and the pellets will be delivered by means of a crane operated transfer system over the bow. The forage can be carried in the 62 specially designed tanks on board which are connected to the unloading system, and the speed needed to meet the weekly schedule is 15 knots.
On an overall length of 74.7m the NVC-401 LNG has a beam of 13.6m and a loaded draft of about 5m. The superstructure is located forward, with accommodation for eight people, and the machinery and LNG tank aft, the cargo tanks occupying the main part of the hull.
A Bergen C26:33L9PG gas engine developing 2,430kW at 1,000rpm turns a CP propeller in a Promas solution integrating the propeller, a nozzle and the rudder in an efficent propulsion system. The reduction gearbox handles power take-off and take-in for the 1,100kW shaft generator in a variable speed HSG (Hybrid Shaft Generator ) configuration linked to the two 400kW auxiliary gensets.
The high lift rudder is complemented by a 540kW tunnel bow thruster and a similar unit in the stern skeg.
Rolls-Royce will also supply the LNG system of about 110m3 capacity giving a range of around 1,750 nautical miles, the engine and thruster controls, an integrated automation system with gas control and monitoring, the DP1 system with joystick, and the power electrical system including hybrid shaft generator.