Stanford Marine Grows Fleet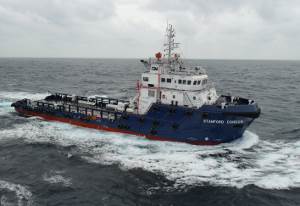 Established in 1997 as the vessel owning and operating branch of the United Arab Emirates-based Stanford Marine Group, Stanford Marine is in the midst of a major fleet expansion. In 2009 the firm acquired five vessels and acquired a company that had ten vessels on order including six new 190-ft off shore supply vessels. This brought the fleet to nearly 40 vessels and expanded the company's operational area to include Southeast Asia.
With a 18-ft molded depth the hull has a 45.2-ft molded beam making possible a 376 square meter cargo deck with a 500-ton capacity. Accommodation for up to 50 workers and crew is provided in a range of single, two bunk and four bunk cabins.
Main propulsion is provided by a pair of Cummins QSK60-M each delivering 2200 HP at 1600 RPM. The engines drive fixed pitch propellers in 360 degree azimuthing drives. These are Schottel SRP 1212FP. Maneuverability is further enhanced by a 500 kW Schottel tunnel thruster.