Totem Terminal Named in Memory of Robert Magee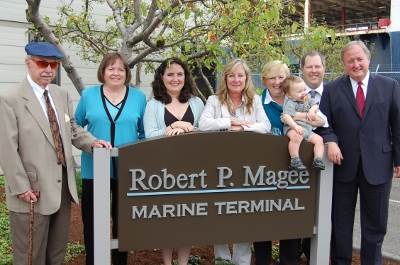 Legendary maritime and Pierce County community leader, Robert P. Magee, was honored September 21, 2011 with the naming of Totem Ocean Trailer Express, Inc's Tacoma terminal in his memory.
VP of Marine and Terminal Operations, Phil Morrell, remembered Bob's frequent visits to the terminal and how he always made time to stop and talk with staff. "When he was at the terminal he was just Bob. He would play a hand of cribbage and was target of the same razzing if he played a bad hand in the game. No matter the title behind his name, he was always relaxed and at home."
The Robert P. Magee Terminal name is proudly displayed on signs at each gated entrance to the terminal, as well as in front of the administration building at 500 Alexander Ave in Tacoma, WA.
About Bob Magee