New Thrane & Thrane Sailor SSAS and LRIT Mini-C Terminals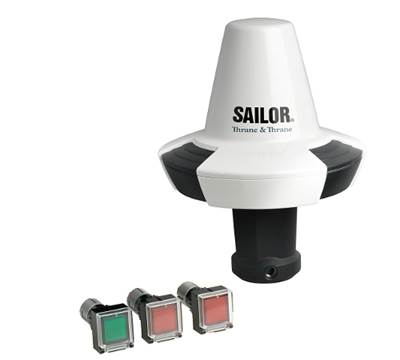 Following the launch of the all-new SAILOR 6110 mini-C as part of the sophisticated SAILOR 6000 GMDSS Series at SMM 2010, Thrane & Thrane has completed development of several new mini-C variants, which were made available to order from 1st July 2011. The new mini-C terminals for the Ship Security Alert System and Long Range Identification and Tracking system provide new functionality and are designed for specific application within the merchant marine and offshore sectors.
The Thrane & Thrane SAILOR 6120 SSA System builds on the successful legacy of the SAILOR 3000 SSA System, which since its introduction in 2004 has proven its worth in real world incidents time and time again. The SAILOR 6120 SSA System has multiple address functionality enabling additional messages to be sent directly to, e.g. the vessel owner, operator or crew family, in addition to the required flag state and ship owner message in relation to the ISPS code. Alert buttons have been made as small as possible to ease installation and concealment whilst configuration and re-configuration, which can be done remotely or by a Thrane & Thrane technician, have equally been made simpler, and requires no crew interaction.
The new Thrane & Thrane SAILOR 6130 LRIT System surpasses the Thrane & Thrane SAILOR 3000 LRIT, which since its introduction in 2008 has quickly become one of the most widely accepted standalone LRIT systems, by flag states and ship-owners alike. The SAILOR 6130 LRIT enables straightforward LRIT compliance through ease of operation and reliability, so offers the same benefits towards acceptance and compliance as the legacy system, but with a number of key enhancements included within the new mini-C family.
The Thrane & Thrane SAILOR 6130 LRIT System is approved by Inmarsat and major flag ASP state administrators. It is fully compliant with the performance requirements described in IMO Resolution MSC.263(84) – Revised performance standards and functional requirements for the LRIT of Ships and also IMO Circular MSC.1/Circ.1307 – Guidance on the survey and certification of compliance of ships with the requirement to transmit LRIT information.