USNS Washington Chambers Joins MSC Fleet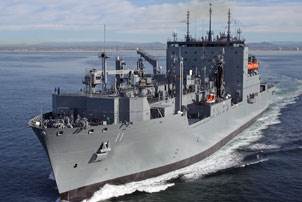 Military Sealift Command accepted delivery of its newest dry cargo/ammunition ship, USNS Washington Chambers, during a short ceremony at the General Dynamics (GD) NASSCO Ship Yard San Diego on Feb. 23.
Washington Chambers is the eleventh of 14 ships in the T-AKE class of dry cargo/ammunition ships. Eleven will serve as combat logistics force ships, and three are expected to be attached to maritime prepositioning squadrons, which strategically place combat cargo at sea, enabling fast delivery to warfighters ashore.
T-AKEs are the newest class of ships being built for MSC. They are replacing some of MSC's aging, single-mission ships such as Kilauea-class ammunition ships and Mars- and Sirius-class combat stores ships as they reach the end of their service lives.