Carnival Uses Intersleek 900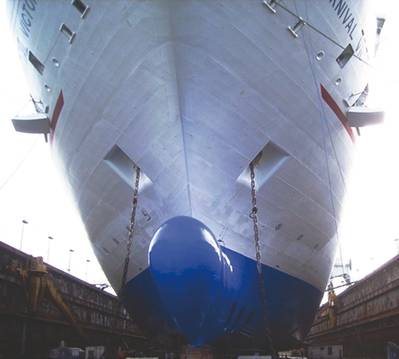 International Paint completed a hull coating project on Carnival Cruise Line's Carnival Victory. The seven-year-old Italian-built vessel, one of a fleet of 23 passenger liners, was coated with Intersleek 900 during a recent drydocking in the Grand Bahamas Shipyard in Freeport, Grand Bahama, in late 2007. Carnival Valor is was due to be coated with Intersleek 900 in early 2008.
Intersleek 900 was chosen following a long evaluation of the Intersleek 700 foul release system by Carnival Cruise Lines. According to International, Intersleek 700 demonstrated that the coating decreased fuel consumption and improved hull maintenance. Secondary benefits of using Intersleek 700 included a reduction in the amount of hazardous wash water and contaminated grit produced during coating repair, fewer coats and less paint applied at subsequent drydockings, fewer volatile organic compounds released during the painting process and less time spent in drydock.
"The Intersleek coating has definitely proven to be effective on Carnival's vessels in terms of improving vessel speed and energy efficiency along with preventing fouling build up on the underwater hull," said Roberto Martinoli, the Executive VP of Carnival Cruise Lines who was involved in the evaluation of Intersleek 700.
As Carnival continued to evaluate Intersleek 700, initially coating only the underwater sides of ships, the company extended the areas coated as the benefits of the product were realized. Carnival Ecstasy, for example, only had the underwater sides coated in 2002, two years later the underwater sides and boottop were coated and in 2006 the entire underwater hull was coated with Intersleek 700.
Earlier in 2007, Carnival Cruise Lines decided to extend the Intersleek fleet usage to 10 vessels and signed a long term supply agreement with International Paint Ltd.
Carnival Cruise Lines chose Intersleek 900, the new patented fluoropolymer foul release coating for the recent docking of the Carnival Victory and the impending docking of the Carnival Valor.
For more information, visit
http://www.international-marine.com