CNO Speaks to Naval Aviators at Maritime Patrol and Reconnaissance Symposium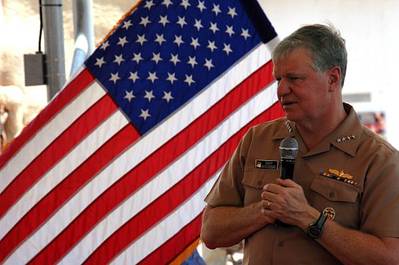 By Mass Communication Specialist 2nd Class (SW) Rebekah Blowers, Chief of Naval Operations Public AffairsChief of Naval Operations (CNO) Adm. Gary Roughead spoke at the Maritime Patrol and Reconnaissance Symposium on April 25 about the community's part in "A Cooperative Strategy for 21st Century Seapower."
CNO discussed the vital role of maritime patrol and reconnaissance to the maritime strategy, emphasizing the need to work with other navies.
"Yours is a community that gives us that global presence," said Roughead. "You are there, you are the strategy and most importantly, you and your shipmates are the ones that are carrying it out, day in and day out."
CNO spoke about his three priorities to maintain current readiness, build tomorrow's Navy and the importance of Sailors, Navy civilians and their families. He said it was imperative the Navy is ready for the challenges of today and tomorrow.
"I can tell you that whenever the Navy has been called upon, the Navy has flown. The readiness that we put into place a few years ago with the creation of the Fleet Response Plan has allowed us to be that way. But we're also able to do it because we're global and we're deployed and we are where things are happening. Maintaining current readiness allows us to do that," Roughead said.
He then took a series of questions and answers about Anti-Submarine Warfare, the 2010 budget and joint forces capabilities. Roughead concluded the discussion by expressing his appreciation for the community's efforts.
"Thank you for what you and your folks are doing every day, day in and day out. You are in unbelievable demand because of the capability and the competence that you bring to the fight," CNO said.