Incat Crowther to Design Workboat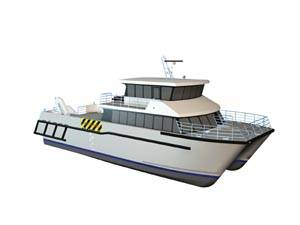 Incat Crowther will design a 24m Catamaran Work Boat for Offshore Unlimited, which is to be built at the new Richardson Devine Marine facility in Hobart, Tasmania. The design will be based on Incat Crowther's recent successes in catamaran work boat design.
The vessel will be a 24 m high speed catamaran work boat capable of carrying 50 tons of deadweight with a service speed of 26 knots. The main deck, which will have a carrying capacity of 24 tons, will be arranged for multiple uses and will include a moonpool for exploration services and the ability to carry a 20 ft. container. The deck will be serviced by a Heila deck crane capable of lifting 3.5 tons.
Powered by twin Caterpillar C32's each producing 1,300 hp the vessel will have a service speed of 26 knots at half load. The vessel will have an extended range of 1875nm at 22 knots due to two large 12,500 liter fuel tanks.
The vessel will be built by the Tasmanian shipyard, Richardson Devine Marine and is expected to be completed by the end of this year. This will be the first catamaran work boat built by RDM which will combine their small work boat experience with the high tech catamaran passenger ferries they have become universally known for.
The vessel will be owned and operated by Offshore Unlimited, a Tasmanian company providing vessels to the northern waters of Australia with operations out of Dampier, WA and Mackay, QLD. Offshore Unlimited provides a comprehensive offshore service including oil rig supply, survey ship re-supply and chase boat services.