Production Resumed on Brage and Veslefrikk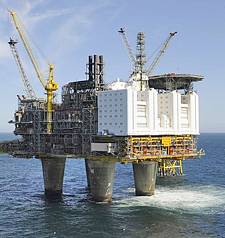 Production on the Brage and Veslefrikk fields has been resumed after the small fire on the Oseberg A platform in the on June 15.
The small fire occurred in a high voltage room on the Oseberg A platform which is part of the Oseberg field center. The high voltage room supplies electric power to the utility systems on the field center. Both the processing and the transport of oil and gas from the Oseberg field centre were stopped immediately. All safety and emergency response measures were implemented as intended during the incident and all personnel on board were taken well care of. Oil from Brage and Veslefrikk is transported via the Oseberg field centre.

Production on the Oseberg A platform and the associated Tune, Oseberg South and Oseberg East fields, which use the Oseberg field centre for both processing and transport, is still shut down.

Production will be resumed as soon as the damages on the involved parts of the facility have been repaired.
Total oil production shut down due to the incident amounts to 150.000 barrels/day.