Shedding the Subsea Offshore LITE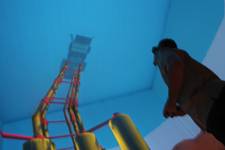 The Louisiana Immersive Technologies Enterprise (LITE) and Global Industries partnered to share LITE visualization technology and high performance computing capabilities with oil and gas industry leaders at OTC in Houston.
"Our hosts for OTC, Global Industries, gave us the opportunity to share our exciting visualization technologies with leaders in the oil and gas industry. Through onsite simulations we developed especially for the conference, our demonstration included an underwater remote vehicle assessing an overturned and submerged rig due to storm action and a virtual fly to a pre-construction vessel," said Dr. Carolina Cruz-Neira, LITE's Executive Director and Chief Scientist and a virtual reality pioneer.
"Oil and gas companies come to LITE to manipulate multi-gigabyte data sets to plan, minimize
risk, reduce cost, increase safety and visualize geoscience uncertainties. Our technologies are
applicable for land, near shore or the new frontiers of deep water drilling and are used in reservoir management, quality control, simulations, forecasting, repairs and maintenance,
optimizing recovery rates and more," said Marty Altman, LITE's Technical Director. "Using visualization technologies, company leadership can make decisions that reduce risks and save costs while still in the early stages of a project. New uses for this technology are emerging all the time. Using 3-D visualization for real-time control of underwater remote vehicles is a good example."
Jeff Miller, manger of public relations and marketing services at Global Industries says the partnership with LITE for OTC was an unqualified success. "Working with the professionals from LITE was a pleasure, and the end result was a long waiting line to get into the main attraction of our booth, which was the 3-D Subsea Experience that LITE created. We sent them some very rough files on our new vessels, as well as some subsea work on a collapsed rig, and they made the final product something that managed to be a big home run. When you're doing a show with over 70,000 attendees, you need something huge to stand out from the crowd. LITE made it happen," he said.
www.lite3d.com