George H.W. Bush Visits USS Ashland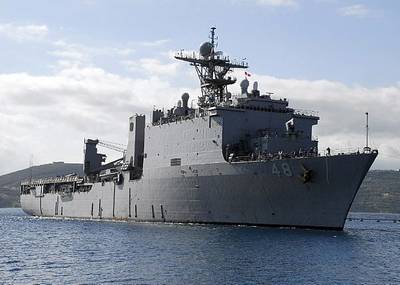 By Mass Communication Specialist 3rd Class Mandy Hunsucker, Expeditionary Strike Group Public Affairs
Former President George H.W. Bush visited the amphibious dock landing ship USS Ashland (LSD 48) to say thank you for the crew's service, June 15.
Bush and some of his family members were on vacation in when they found out that would be visiting Rhodes, while the ship was returning from the . Bush quickly adjusted his schedule and made a detour just to stop by and talk with the crew.
"I want you all to know it is a joy for us to see this ship, to be on board and be able to show the respect that we have for the Navy and those who serve there in," said Bush.
Bush presented eight awards and re-enlisted two Ashland Sailors during his visit.
"To be re-enlisted by former President Bush was an unbelievable experience," said Damage Controlman 1st Class (SW/AW) Tim Taylor. "I was extremely honored to have this opportunity. It's definitely a once in a life time experience."
"It was very kind of former President Bush and his family to take time out of their vacation to watch the ship moor and then come on board to talk to the crew and thank them for their service," said Cmdr. Jeffrey Ward, Ashland's commanding officer. "It meant a lot to the crew to be able to talk to Mr. and Mrs. Bush, shake hands, and pose for pictures. It was a great start to our visit to , and it is a day the Sailors will never forget."
After the ceremony, Bush and his wife, former First Lady Barbara Bush, sat down with some Sailors and enjoyed refreshments while the rest of his family toured the ship.
"Mr. Bush was very down to earth and he had a great sense of humor. He joked with us and his wife made us all laugh," said Culinary Specialist 3rd Class Jivette Taylor. "It was really neat that he came to the . It meant a lot to the crew."
At the conclusion of the family's visit, Mr. and Mrs. Bush posed with numerous Sailors and Mr. Bush gave out several prized autographs.
"It was an honor to have the former President of the visit our ship and address the crew," said Senior Chief Hospital Corpsman (SW/FMF) Chris Ebert, who got his pocket copy of the U.S. Constitution signed by Bush. "It really reaffirms our mission as a just cause, and it boosted the spirit of our Sailors."
is part of the Nassau Expeditionary Strike Group, currently operating in the Navy's 6th Fleet area of responsibility to support maritime security operations and theater security cooperation efforts.