Crowley Emergency Response … Year Round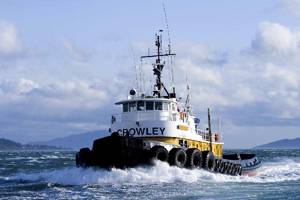 Crowley emergency response tug began its first day of year-round service today in Neah Bay, Wash.
The emergency response tug will provide assistance to disabled ships and protect the coastline in an unprecedented tour in Washington - providing 365 continuous days of service in an effort to help prevent oil spills in the Strait of Juan de Fuca and along Washington's pristine coastlines.
The contract extension agreement between the Washington Department of Ecology and Crowley Maritime Corporation marks the first time that a response tug will be stationed at Neah Bay for a full year of service.
Since 1999, state-funded response tugs stationed at Neah Bay have kept disabled ships from drifting onto the rocks and causing major oil spills during the severe winter months. These tugs have stood by and assisted over 40 ships that became disabled or had reduced maneuvering or propulsion during harsh winter storms.
During the 2008 legislative session, Gov. Gregoire and state lawmakers earmarked $3.7 million for the tug and directed the Department of Ecology to contract for year-round emergency response tug service starting July 1, 2008, through June 30, 2009.
In April, the Department of Ecology and Crowley agreed to extend the company's existing contract to station a high-horsepower, ocean-going tug at Neah Bay for a year.
The Department of Ecology also recently reached an agreement with the Makah Indian Tribe to install new electrical outlets and upgrade other infrastructure at the Neah Bay Marina where the tug docks.
"This is a significant day for Crowley and the State as we embark on a year-round mission to protect our coastal and inland waters, and shorelines," said Scott Hoggarth, general manager of marine services for Crowley in Seattle. "This proactive measure by the Washington Department of Ecology reduces the possibility of an environmental accident thereby providing peace of mind to coastal communities. We are pleased to be a part of this environmentally responsible measure."