Freedom (LCS 1) Begins Builder's Sea Trials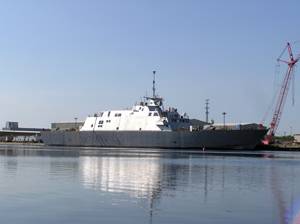 The nation's first Littoral Combat Ship, Freedom (LCS 1) was put to sea for the first time, marking the beginning of Builder's Sea Trials for the first-in-class coastal surface combatant.
The 378-ft. Freedom, designed and built by a Lockheed Martin Lockheed Martin Corporation-led industry team, is conducting Builder's Sea Trials in Lake Michigan. The trials -- which are a coordinated effort between the U.S. Navy and the Lockheed Martin team -- will include operational testing of the vessel's propulsion, communications, navigation and mission systems, as well as all related support systems.
"Freedom is now under way. Our team is looking forward to this trials period to demonstrate all the capabilities our unique design for LCS will bring to the Navy," said Joe North, director for Lockheed Martin's Littoral Combat Ship program. Following the completion of Builder's Sea Trials, Freedom will return to Marinette Marine to prepare for Acceptance Trials that will be conducted by the U.S. Navy's Board of Inspection and Survey. LCS 1 will be delivered to the Navy later this year and home ported in .