Caspian Services Takes Delivery of Demaree Inflatable Boats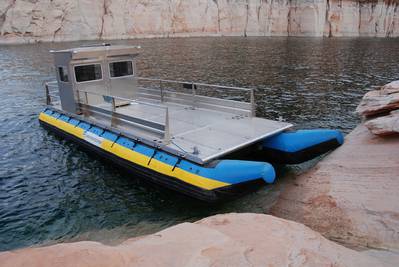 Demaree Inflatable Boats Inc. (DIB) has delivered two 41-ft. river freighters to Caspian Services, Inc, a company that provides a broad range of services to the oil and gas industries in the . The boats will be used for oil and gas exploration in shallow water areas of the .
The river freighter is 41-ft. long and 14-ft. wide, with each pontoon made of highly durable, vulcanized neoprene, with heavy reinforcing strips to help with fendering. The 35.5 ft. long, diamond plate 5086 aluminum deck consists of five sections that bolt together to provide a secure working platform. The frames are also designed to come apart and nest one inside another for easy transportation and storage. Each boat is powered by twin Yanmar Bravo II diesel engines, which are rated at 315 hp each. The boat has a dry weight with engines of 10,000 lbs, and a design working load of 17,000 lbs.
In addition to the boats in , DIB has its 32 ft. and 41 ft. river freighters being used by various geophysical companies and government organizations off the waters of , , , , , , , , , and the