USNS Lewis and Clark Wins Safety Award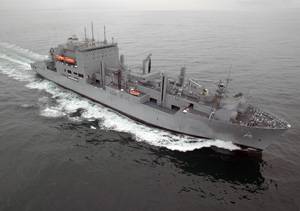 Military Sealift Command's dry cargo/ammunition ship USNS Lewis and Clark won the 2008 Department of the Navy safety excellence award in the Military Sealift Command category, Secretary of the Navy Donald C. Winter announced yesterday.
The 689-ft. ship is currently operating out of Norfolk, Va., and is crewed by 124 civil service mariners and a small military detachment of 11 active-duty Navy sailors.
Lewis and Clark's crew was recognized for developing new operational procedures upon delivery of the new class of ship that set the standard for onboard high risk operations across the entire class of T-AKE ships and have became a prototype model for the maritime industry. MSC's engineering directorate lauded the crew for stepping up to the task of identifying, assessing and addressing safety issues during the ship's break-in period.
In addition to creating the procedures, two Lewis and Clark crew members were noted in the award package. Relief Chief Engineer Tim Nesbitt personally authored the prototype "T-AKE Engineering Casualty Control Manual," which provides drill protocols and scenarios for responding to engineering causalities and is used throughout the T-AKE fleet. Also, Chief Engineer Bob McManus was featured in Seapower Magazine in recognition of the Engine department's leadership role in the maritime industry.
The Department of the Navy safety excellence award program recognizes Navy and Marine Corps teams, ships and installations for exceptional commitment to safety and operational risk management.
In the announcement message, Winter extended his personal congratulations to the winners, telling them, "Your integration of mission first, safety always into your command culture was superlative and your commitment to the safety of one another has no doubt prevented the loss of life and precluded numerous injuries and damage to our material assets."
The award ceremony will be held in , in September.
Delivered in 2006, Lewis and Clark is the first of a new class of 14 ships dedicated to MSC's Naval Fleet Auxiliary Force. These ships are designed to operate for extended periods at sea and to deliver ammunition, provisions, stores, spare parts, potable water and petroleum products to the Navy's carrier strike groups and other naval forces worldwide.
MSC operates approximately 110 noncombatant, civilian-crewed ships that replenish U.S. Navy ships, conduct specialized missions, strategically preposition combat cargo at sea around the world and move military cargo and supplies used by deployed forces and coalition partners.