Double Launching at HDW-Gaarden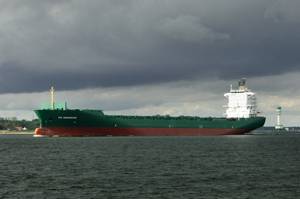 On September 5, two 2,700 TEU container ships were launched at HDW-Gaarden in , a company of ThyssenKrupp Marine Systems. The two container ships are the second and the third of a series of three ships for the Hermann Buss shipping line in Leer. The MAIN TRADER was named by Gabriela Meyer, the wife of Jens-Uwe Meyer, financial consultant to the shipping line. The Mosel Trader was named by Dr. Ulrike Schäfer, the wife of Dr. Matthias Schäfer of the Buss family.
Both ships will be chartered to the Chinese T.S. Lines Limited headquartered in and will operate in Asian waters. The ships will be delivered in mid-September and mid-December 2008. The container ships have been built in compliance with the rules and regulations of Germanischer Lloyd.