Bollinger Awarded Contract for FRCs for Coast Guard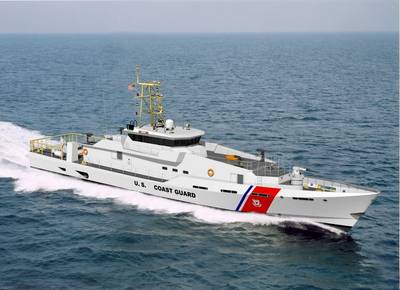 Bollinger has been selected to design and construct up to 34 Fast Response Cutters "Sentinel" Class (FRC) for the Coast Guard. The FRC, a new generation of USCG patrol boats, is a replacement for the Coast Guard ISLAND Class cutters that Bollinger built almost a quarter century ago.
Bollinger CEO and Chairman of the Board, Donald "Boysie" Bollinger, said that the program, which is expected to last for approximately ten years, could result in the construction of 34 Coast Guard cutters that will provide employment for approximately 500 people in the Bollinger organization.
The FRC contract was competed nationally with many of the major shipyards vying for the award. The winning Bollinger design is based on a parent craft concept using a modern hull form that was originally developed by Damen Shipyards in the Netherlands. "We have had an excellent relationship with Damen for the last ten years." said Bollinger. We are currently completing another contract for the USCG, Marine Protector Class Patrol Boats, with the 75th patrol boat being delivered next year. That hull design was also based on a successful Damen design." Bollinger said that he believes the contract will bring a half billion dollars worth of business to maritime suppliers.
The Bollinger FRC measures 153'-5" x 25'-5" x 8'5" and is powered by two (2) TIER II diesel engines rated at 5760 Brake Horsepower. The vessel will accommodate a crew of twenty-two for up to five days at sea. The cutter's missions will include search and rescue, drug and illegal migrant interdiction, homeland security and maritime defense. It will have a top speed over 28 knots. Operational capabilities and crew comfort are features that have been designed into the cutter. It has an extensive electronics suite to provide command and control along with sophisticated communications systems.
At the peak of production Bollinger will be delivering a new cutter every eight weeks.
Bollinger has provided a service to the USCG building patrol boats now going on 25 years. During this time Bollinger has built 124 patrol craft for the USCG, addressing the ever challenging missions that the Coast Guard has been assigned.