Steve Schultz Retires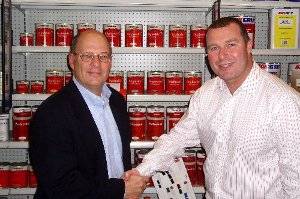 Steve Schultz a marine industry leader and Interlux veteran of 29 years announced his retirement to his staff and friends in a brief meeting at International Paint, PLC headquarters on November 20, 2008.
Mr. Schultz has been Executive Vice President of Yacht Coatings North America since 2002. He started his career in 1980 as Interlux Marketing Manager. In 1984 he became General Manager of Interlux US, and shortly thereafter, became responsible for Interlux North America. Steve has served on International Paints Global Yacht Executive board since 1987. In 1998 Steve took on the responsibility of Global Yacht Marketing and Technical Director looking after product development in England, New Zealand and the US. In this role he was responsible for Global Marketing in Australasia, Europe and North America.
Mr. Schultz said at the time of his announcement that "as a lifelong boat owner, for me the Interlux business has always been about formulating the best possible product to meet the needs of both the boat owner and professional applicators. It has been very satisfying to be involved with the launch of products that have become the leading brands in North America, including Micron antifouling paints, Interprotect epoxy primer and Schooner varnish. This is why working for the Interlux business has always been such a pleasure. The company has the best people and is committed to the very best products and I was lucky enough to steer the boat for the last 22 years. During my tenure at Interlux, I felt fortunate to hold what I consider the best job in the Marine Industry. It has been a dream of a lifetime".
When asked what he will do next Steve commented that, "I have drafted a book, which needs extra time to complete. I also plan to undertake some consulting work". Mr. Schultz is an active vintage sports car racer and plans to continue spending time enjoying his boats along with his family.