Keppel's DSS 51 Semi for Transocean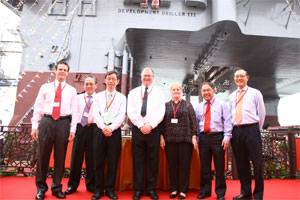 Keppel FELS Limited has completed Transocean's Development Driller III, an ultra-deepwater drilling rig built to Keppel's proprietary DSS 51 semisubmersible (semi) design.

The Development Driller III is designed to construct wells as deep as 37,500 ft wells and operate in water depths of up to 7,500 ft, upgradable to 40,000 ft and 10,000 ft, respectively.

Designed by Keppel's Deepwater Technology Group in collaboration with Marine Structures Consultants of the Netherlands, DSS units have a total payload of 13,500 tons. This heavy duty payload reduces the need and costs of transporting supplies to and from the rig considerably, and is especially valuable when operating in remote environments.

Rigs in the Series also have double-skin columns, which protect the critical equipment within from damage by external impact. This greatly reduces rig downtime in the case of hurricanes or strong climatic pressures out at sea. The layout of the engine rooms has also been designed to minimize the potential of both being shut-down at the same time in an emergency.

Furthermore, being able to operate at water depths of 9,842 ft and drilling depths of 32,808 ft below the mudline makes the DSS Series well-suited to operate in offshore Brazil, West Africa, Gulf of Mexico and Southeast Asia. The DSS Series also features reduced emissions and discharges.

Mr Robert L. Long, CEO of Transocean, said, "Through our collaborative effort with Keppel FELS, Development Driller III will soon be ready for deployment by our customer BP in the U.S. Gulf of Mexico."

Development Driller III was named in the presence of Guest-of-Honour, Mr. Peter Ong, Permanent Secretary of the Ministry of Trade and Industry, by Mrs. Lyn Thierens, spouse of Mr. Harry Thierens, Gulf of Mexico Drilling & Completions Wells Director, BP.

Keppel FELS and Transocean have a long-standing partnership spanning several significant projects. These include the construction of Trident 20, the first international class jackup rig to be built in the Caspian Sea, upgrades and conversions of the Sedco 700-series semis to enable dynamic positioning, and the repair of various Transocean rigs.

Including Development Driller III, Keppel FELS has completed three of eight DSS Series semis ordered, since the design's premiere in 2001.