CG Reports No Pollution, Navy Ship Grounding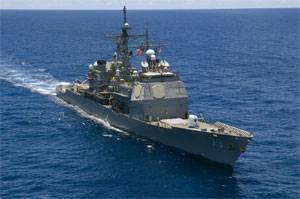 U.S. Coast Guard and State of Hawaii pollution investigators determined this morning there is no threat of marine pollution after a U.S. Navy ship was freed from a grounding site off Honolulu International Airport's reef runway.

The USS Port Royal ran aground a half mile off the runway Feb. 5 and was pulled free by the Navy. A Coast Guard air crew aboard an HH-65 Dolphin helicopter was airborne for an investigation at sunrise.
Coast Guard and state pollution investigators aboard the HH-65 reported a sheen of approximately one mile by 100 yards wide. Pollution investigators on scene on Coast Guard vessels report the sheen is marine diesel, a very thin fuel which burns off quickly in sunlight.

The Coast Guard estimates the amount of fuel comprising the sheen is approximately seven to eight gallons. It's not clear yet if the fuel is from the Port Royal or from one of the nine other vessels used in the response.

There is no threat to the coastline or marine life from the sheen and a crew aboard the oil spill recovery vessel Clean Islands will remain on scene until the sheen burns away.

"We are confident the small sheen will burn away this morning," said Cdr. Kathleen Moore, the U.S. Coast Guard Alternate Captain of the Port and a senior officer responsible for oil spill response in the main Hawaiian Islands.

13. Norwegian Sun Homeports in Canaveral
Expanding upon its weekly port of calls, Norwegian Cruise Line (NCL) announced it will homeport Norwegian Sun at Port Canaveral offering Eastern and Western Caribbean cruises starting in October 2010. It is the first NCL ship to homeport at Canaveral since Norwegian Crown sailed Bermuda cruises in 1997.

The seven-day cruises departing on Saturdays will be offered from October to April. The Eastern Caribbean itinerary features Nassau, Bahamas; St. Thomas, U.S. Virgin Islands; and Philipsburg, St. Maarten while the Western Caribbean cruise calls on Cozumel, Mexico; Santo Tomás de Castilla, Guatemala; Belize City, Belize and Key West, Florida. The two distinctive itineraries allow for an exciting 14-day cruise experience.

"Giving guests an NCL product from Port Canaveral for the Central Florida family market is exciting news for our large and expanding 'drive-to' and 'fly-to' customer base," said Bobby Giangrisostomi, Canaveral's Deputy Director of Business Development.

Norwegian Dawn, Norwegian Spirit, Norwegian Majesty, and Norwegian Gem have all made port of call stops at Canaveral. In 2010, Norwegian Jewel also will be added.