Wärtsilä, IHI Marine Propulsion System Agreement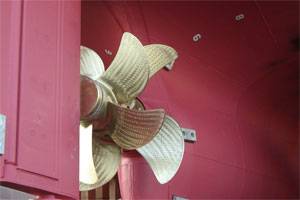 Wärtsilä, ship power system integrator, and IHI Marine United Inc. (IHIMU) of Japan, have concluded a co-operation agreement. Under the agreement, Contra-Rotating Propeller (CRP) systems developed by IHIMU will be incorporated into Wärtsilä's propulsion solutions used on board diesel-electric driven ships.

The co-operation agreement mainly covers the European market, where the environmental demands on shipping operations are becoming increasingly stringent.

The IHIMU CRP systems have been installed over a period of more than 20 years onboard VLCC and bulk carrier vessels. The company has further developed its CRP systems for diesel-electric ship applications installed from 2007 onwards.

The IHIMU CRP system is applicable to all vessels from small ships to large LNG carriers. The application of the CRP system could be extended to include hybrid (mechanical driven and electric driven) propulsion systems, and four-stroke mechanical systems, at a future stage.