Drydocks World Participates in Sea Asia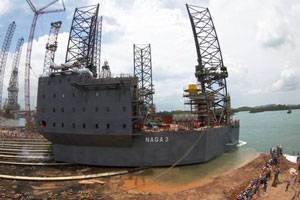 Drydocks World, the global maritime arm of Dubai World, announced their participation in Sea Asia 2009, scheduled to take place in Singapore from the 21st to the 23rd of April 2009.

Sea Asia 2009 will bring together top maritime professionals, which include Shipping CEOs and executives of over 350 international companies from 45 nations, showcasing the industry's latest technology, products and services.

Denis Welch, CEO of Drydocks World – Southeast Asia said, "Currently, Asian ship owners control more than 50% of the world's commercial fleet while shipbuilders in the region produce more than 85% of the entire new build globally."

Welch will be a guest speaker for the Shipbuilding and Ship Conversion session at the exhibition on the 22nd of April. In his dialogue, he will specifically address "What differentiates one ship repair yard from another", and elaborate on the expertise, systems and procedures that differentiate Drydocks World from other ship repair yards in the region.

In addition, Drydocks World will be showcasing the successful launch of the third jack-up rig built at the Drydocks World - Graha yard, Hull No. L203 Naga 3 for UMW Standard Drilling.

Welch said, "L203 Naga 3 is a new generation MSC CJ46 X100D Mobile Offshore Drilling Rig with specifications of 350ft Cantilever (possible to upgrade to 375ft), 30,000ft drilling depth, equipped for high pressure high temperature (HPHT) drilling environment, large VDL, bigger deck space with 70ft and 20ft X-Y cantilever (highest in industry) and installed with automated pipe racking system."

Drydocks World - Southeast Asia, established in April 2008, is a member of the Drydocks World group of companies and sister operation to Drydocks World – Dubai (formerly known as Dubai Drydocks).