Seatrade Award for Intertanko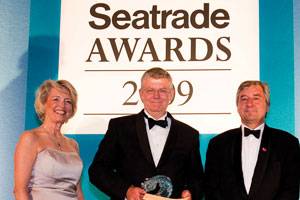 Intertanko's Tanker Officer Training Standards (TOTS) initiative has won the Seatrade Award for the category of Investment in People which recognizes a significant contribution to the recruitment, training, retention and advancement of the industry's most valuable asset, its people.

Launched in April 2008 during intertanko's Istanbul Tanker Event, TOTS is a core competency-based training system for tanker officers which aims to raise the bar over and above the minimum acceptable standard, and to be accepted as the norm of a competent tanker officer. It involves tanker operation and tanker safety elements, and also focuses on aspects of the human element as well as re-invigorating the mentoring concept,

Becoming accepted as an industry standard, TOTS is a proactive move that establishes a set of voluntary tanker officer training standards for Intertanko members and others. TOTS is designed to ensure a tanker officer's competency for ship board operations on three different types of tankers, namely crude, product and chemical tankers.

TOTS is approved as a standard by the Nautical Institute and the Institute of Marine Engineering Science & Technology. The new electronic version of TOTS (e-TOTS) was launched last week in Tokyo.