Burger Boat's Sycara IV Wins Award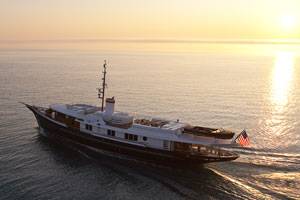 Burger Boat Company's Syara IV, a 2010 151.2 ft Fantail Motor Yacht, was awarded the Best Design Trophy for Custom Yachts Under 50m at the prestigious 2009 World Yachts Trophies organized by LuxMedia Group and held in conjunction with the Cannes International Yacht and Boat Show September 12, 2009.

Sycara IV won the award thanks in part to her unique design, reflective of her owner's desire to build a family yacht true to the Golden Age of yachting. Sycara IV recaptures the grace of a bygone era and represents Burger's continued commitment to designing and building custom yachts to meet their owner's specific requirements and desires. Styled after the classic yachts of the 1920's, Sycara IV brings together an impressive collaboration of experts. These include her owners, with their extensive yachting experience and yacht building knowledge; Steve Narkawicz, project manager; Bruce King, with his schooner bow and fantail hull; Ken Freivokh, who helped define her interior spaces and exterior detailing; and Burger's team of designers, engineers and craftspeople.

Sycara IV will make her world debut at the 2009 Fort Lauderdale International Boat Show.