New Hydraulic Personnel Winch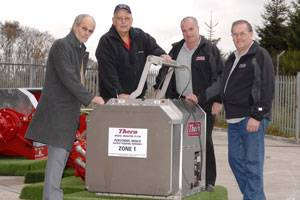 Thern Lifting Services, Inverurie based engineering manufacturing company, announced the first contract for the Monitor 75/150 (a self contained zone 1 hydraulic personnel winch) with Odfjell Drilling UK Ltd, on behalf of Talisman Energy UK Limited. The Monitor 75/150 is a specially designed and patented hydraulic personnel winch, is to be approved by Lloyds Register of Shipping and will be installed on Talisman's Fulmar Alpha platform.

The advanced safety features on the new and unique Monitor 75/150 designed by Thern Lifting Services has been designed to mitigate as many risks as possible during man riding operations. The bespoke winch is the only one of its kind available worldwide and meets the latest NPD and European Machinery Directives. The main advantages to previous devices are the in-built safety features, self-contained compact modular unit, load selector facility, structure and components which are primarily stainless steel, two independent internal failsafe multidisc brakes and the option of Air or Hydraulic motor.

The Monitor hydraulic personnel winch is just one product within a wide range of the latest Air and Hydraulic and Electric winches, produced and designed specifically in the UK for the UK, European and worldwide marine and offshore markets.

Thern Lifting Services were established in November 2008 by Ian Nicol (Managing Director). Kenny Lendrum (Workshop Manager) and their in-house design team have over 30 years of experience in designing Air and Hydraulic systems to suit customer requirements. The team at Thern identified the opportunity to provide a better choice and more suitable products in air and hydraulic lifting equipment within a previously, stagnant marketplace. Thern have invested an initial six figure sum on the new range of products.