Jumbo Shipping Completes Pearl GTL Project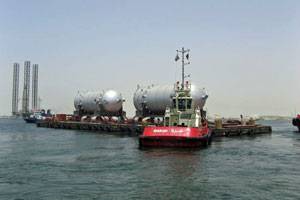 Jumbo Shipping has completed a two-year project for the Pearl GTL project of Qatar Shell GTL Ltd. From 2007 to November 2009, 24 reactors of 1,200 tonnes each have been transported to the Port of Ras Laffan. With 28,800 tonnes of heavy metal, Jumbo Logistics and Jumbo Shipping made a solid contribution to the Pearl GTL project.

Jumbo's HLV Fairpartner transported 12, German-built, reactors from Rotterdam. Jumbo Logistics was contracted to execute a barging operation for 12 of the reactors, starting at the fabrication site in Hamriyah (U.A.E.). As the reactors were rolled-off by a different contractor, Jumbo designed a stooling plan suitable for both contractors, thus ensuring efficient on- and offloading conditions.

Furthermore, as a number of similar barge trips lay ahead, Jumbo designed a re-usable sea fastening system. Each time, the reactors were rolled onto the barge using self-propelled modular trailers (SPMT's). In order to place them onto the four stools positioned on the barge deck and because of load-spreading issues, the deck had to be 'raised' by 30 cm with steel mats to provide unobstructed access for the SPMT's. Another purpose of this raised deck was that it provided a larger tidal window for loading and offloading.

When the tide was suitable, the reactors were slowly rolled onto the barge by a 16-axle, 3-wide SPMT trailer with a total of 192 wheels. To continuously provide safe access, the barge's ballast levels were adjusted step by step. The loaded barge was then towed the 200 miles to Ras Laffan where the reverse procedure of the loading operation was carried out. Finally, the reactors were brought to the site by another contractor.

With this contribution to the Pearl GTL project, Jumbo once again shows its all-round heavy lift capabilities. For shipping, pre- or on-carriage, Jumbo remains the partner of choice for reliable and innovative total transport solutions.