Battleship Missouri Reopens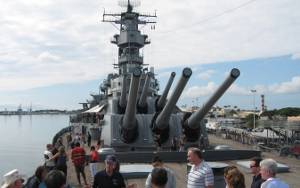 Hawaii Governor Linda Lingle and Pearl Harbor Naval Shipyard commander Capt. Gregory R. Thomas joined the Battleship Missouri Memorial in saluting its volunteers and supporters as the historic ship fully reopened to visitation following a multimillion-dollar drydocking project.

A ukulele band from the Big Island of Hawaii's Waiakea Intermediate School performed at a ceremony in honor of the memorial's volunteers and supporters. The school group is staying aboard the 66-year-old iconic battleship all weekend as part in the memorial's overnight encampment program focusing on science, technology, engineering and math -- or STEM.

Memorial president Michael Carr said "The Battleship Missouri is now in better shape than any other historic ship in the world. We are grateful to have the expertise and resources in Hawaii to drydock the Missouri, thanks to Pearl Harbor Naval Shipyard and BAE Systems and its subcontractors. Just as essential were the many local residents and Hawaii-based military volunteers who selflessly stepped forward to donate their time so that the Missouri returned home on schedule. The Missouri's return from drydocking, completed on time, comes just in time to commemorate the 65th anniversary of the end of World War II this summer, on September 2."

Following $18m worth of maintenance and preservation work in Pearl Harbor Naval Shipyard's largest drydock facility, the Battleship Missouri returned on Jan. 7 to her home pier near the USS Arizona Memorial. Sporting a refurbished hull, fresh coat of paint, and state-of-the-art cathodic protection and humidity detection technologies, the ship is now fortified against corrosion for decades to come. Furthermore, tour routes, signage, special event capabilities and ADA accessibility have all been upgraded, including refurbished restroom facilities - or "heads" - on the ship for visitor use.