Gladding-Hearn Delivers Calcasieu Pass Pilot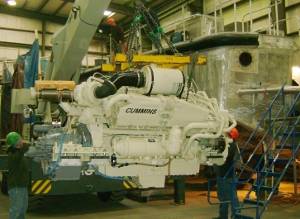 In America, deep-V hulls are synonymous with the late C. Raymond Hunt who founded the firm with current president John Deknatel in the 1960s. The design was, conceived and patented by C. Raymond Hunt in 1963. The sharp entry forward keeps pounding to a minimum. There is no deep forefoot to cause bow steering and broaching. The V-shape is carried all the way to the transom, which results in evenly distributed displacement and lateral plane.

Since 1978 C. Raymond Hunt Associates have collaborated more than 40 times with Gladding-Hearn Shipbuilding to design and build tough, high-speed deep-V pilot boats. As ship draft has increased pilots have moved further off shore in meeting ships and often board at higher speed. The collaboration of designer and builder has, over the years, evolved a range of pilot boats designs to meet a range of requirements, from the 43-foot Resilient Class to the 75-foot Charleston Class. It was this later hull that formed the basis on which the Lake Charles pilots worked to develop a boat to meet their own particular needs.

Designed by C. Raymond Hunt and built at Gladding-Hearn, the new 75 by 20.6-ft (waterline 6711) boat has been delivered to the Lake Charles pilots. The vessel is powered by a pair of Cummins QSK38 Tier II engines each developing 1350 HP at 1900 RPM and turning 5-blade 41-inch Bruton props through quick shift Twin Disc MGX-6620A gears. The Twin Disc MGX-6620-A gears have a 10-degree down angle to the propeller shaft allowing the engines to be mounted well aft in the hull and at an angle of only four degrees while keeping the propellers deeper in the water for maximum bite.

The Tier II main engines on the pilot boat are fitted with the Cummins Eliminator oil lube filtering systems. These replace disposable filters with self-cleaning centrifuges that reduce maintenance expense and improve engine life. Cummins Northeast Inc also supplied two Cummins Power Generation-Onan 27.5 kW marine generator sets.

With these engines, the C. Raymond Hunt designed, Gladding-Hearn built and Cummins-powered 758x208x10 Lake Charles pilot boat reaches speeds of 25.9 knots fully loaded and 27 knots light boat.