4000 HP Tug for Brazil Port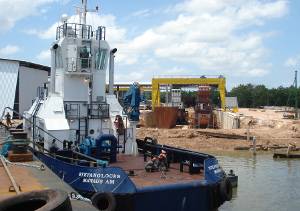 The Estaleiro Rio Maguari, a shipyard in the District of Icoaraci in Belem, the capital of the State of Para in the Amazon estuary (See google earth 1 degree 17 minutes South and 48 degrees 26 minutes West) is currently finishing up a 4000 HP Z-drive harbour tug for Hermasa Navegação da Amazônia. The owners are a part of Hermasa a large producer of soya beans with 2.5 million tons exported in 2007.

The new tug, named Stefanolocks, is 85.3 ft by 29.2 ft with a molded depth of 15.7 ft. Propulsion power will be a pair of Cummins QSK60-M each delivering 2000 hp at 1,800 rpm. The engines will turn Rolls Royce Azimuthing Thrusters model of US205/3305-MK2. A pair of Cummins 6B-powered 99 kW generator sets will provide auxiliary power.

The local Cummins distributor Powertech Comercial Ltda supplied the engines.