5th Incat for New York Water Taxi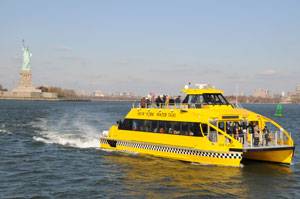 Gladding-Hearn Shipbuilding, Duclos Corporation, has delivered its fifth high-speed water taxi, Gene Flatow, to New York City-based New York Water Taxi.

Like the four sisters before her, the bright yellow, all-aluminum catamaran, designed by Incat Crowther, measures 72 ft long and 27.3 ft abeam, and draws 5 ft. The water taxi is USCG-certified to carry 149 passengers but limited to only 99 passengers when operating at the City's "water taxi" designated docks.

The vessel is powered by twin Cummins QSK 19-M diesel engines, each rated at 800 Bhp at 2100 rpm. The EPA Tier-2-compliant engines drive 5-bladed Ni-BR-Al Bruntons propellers via Twin Disc MGX 5145SC "Quick Shift" gearboxes and EC-300 control systems. The generator is an Alaska Diesel Northern Light M944T 38kW unit.

According to shipyard officials, the diesel engines and generator exceed the latest EPA emissions standards. The Tier-2 main engines and generator are the first to be released for commercial service by Cummins and Alaska Diesel. At a top speed of 27 knots, the engines burn less than .02 gallon per passenger per mile of ultra-low-sulfur diesel fuel.

The boat's carpeted main cabin seats 98 passengers and is entirely accessible for passengers in wheel chairs. It is equipped with double-glazed windows, Beurteaux Ocean Tourist seats, two 42" plasma TV monitors, a head, snack bar, and SEER-rated HVAC. Hospital-grade mufflers and energy-absorbing cabin mounts reduce interior sound levels to approximately 72 dba. Illuminated LED destination signs are located in the main cabin above the passenger doors.

The exposed upper deck, behind the wheelhouse, seats 50 passengers, with standing room for another 20. Passengers board and disembark through doors at the side and the bow between the main cabin and foredeck. The heated foredeck reduces the risk of passengers slipping on ice and snow in the winter.

Gladding-Hearn has built 36 high-speed, passenger catamarans for service in the U.S. and the Caribbean since becoming a U.S. Licensee of Incat Designs in 1984.