Air Cavity System for Existing Vessels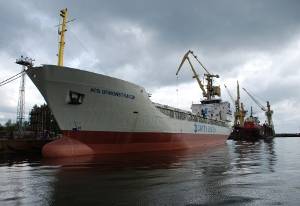 DK Group announced the launch of the Air Cavity System (ACS) Retrofit for existing vessels. The new technology - a development of the original ACS that was specifically designed for new vessels - can be retrofitted at standard drydock or in most ship and repair yards in just 14 days.

ACS Retrofit, which seatrials have shown can reduce fuel consumption by up to 15% depending on vessel type, has an average fuel cost payback of under two years at current bunker fuel prices, with some ship classes achieving substantially better payback periods. Through continual research and development, Jorn Winkler and his team have also reduced the size and length of the cavity of the ACS system by 90% since it was first developed.

DK Group has also announced the appointment of Ken Bloch Soerensen as chief executive officer. Soerensen was previously chief executive of United Arab Shipping Company (UASC), executive director of the European Liner Affairs Association, senior vice president of NOL Group, and spent 18 years working with A.P. Moller - Maersk.

ACS can be installed on existing and newbuild vessels for many classes of vessels in the ocean-going commercial fleet, including: tanker vessels, containerships, bulk carriers, general cargo ships and LNG/LPG vessels. ACS will continue to be offered to shipowners building new vessels in tandem with ACS for existing vessels.