Crude Terminals: Platforms for Iraqi Recovery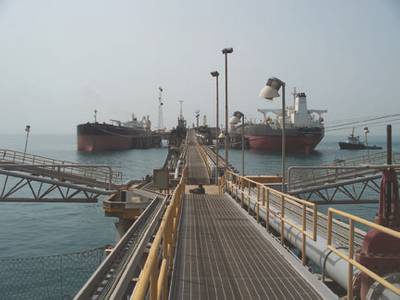 Iraq's recovery depends on oil revenues, and the Khawr Abd Amaya Oil Terminal, better known here as KAAOT and the nearby larger Al Basra Oil Terminal (ABOT), are the platforms upon which Iraq's economy depends.
Nearly all of Iraq's revenue comes from crude oil, and nearly all of it leaves the country here. These two crude oil transfer terminals in the Northern Arabian Gulf or 'NAG' can accommodate large tankers carrying Iraq's crude oil output that is pumped to the oil platforms (known as OPLATS) by pipeline from Basra.
From a security point of view, the OPLATS are the "single point of failure" that could destroy the nation's hopes of recovery. Royal Navy Captain Guy Robinson leads the U.S., British, Australian and Iraqi forces responsible for OPLAT Defense. "The coalition is defending the Oplats, keeping the vital lifeline going."
KAAOT was built more than three decades ago. Much work has been done to restore the platforms, still damaged following years of war. Al Qaeda executed a coordinated suicide attack on both platforms in 2004, killing two Sailors from USS Firebolt (PC 10) as well as a Coast Guardsman. Bullet holes are common, and a large fire at KAAOT, caused by a welding accident, warped steel beams. The coalition placed a precision guided munition in the middle of the helicopter platform during the first Gulf War. The hole has been patched but is visible from below the helo deck.
"It's a slightly surreal place to live and work," says Robinson of KAAOT. "It's a wreck of a place."
Yet despite the appearance, the platforms are symbols of optimism, and that positive sprit is shared by the coalition forces, Iraqi Marines and Southern Oil Corporation (SOC) civilians who work there. Coalition forces provide the needed security to allow the SOC workers to do their jobs, and fill the oil tankers that generate the needed revenue to help rebuild the nation of Iraq.
Iraqi Marines provide the physical security for both platforms. "We're helping the Iraqis to be capable to take ownership of their territorial waters," Robinson says. The desired end state is a self-sufficient Iraqi Maritime Force. It's an achievable goal."
Lieut. (j.g.) Sean Doherty, of Dayton, Ohio, is part of the contingent from Maritime Expeditionary Security Squadron FOUR, based at Portsmouth, Va., providing security on the platforms and inspecting the tankers at the anchorage and escorting them as they come alongside to load. "Our primary mission is defense of the platform, and to help the Iraqis take on the mission," says Doherty.
Due to the importance of the terminals, the UN Security Council, at the invitation of Iraq, has resulted in a very robust defense of this maritime region in general, and these platforms specifically.
"There are the assets here to do the job properly," says Robinson. "We say to potential enemies, 'Come take a look.' Any adversary will see a significant presence 24 hours a day, seven days a week. They know we'll defend it robustly."
A tanker may take two to four days to load. ABOT can handle four tankers at a time, but is usually limited to three to maintain sufficient pumping pressure. During this writer's visit, the 156,000-ton, Bahamas-flagged crude carrier Antonis L. Angelicoussis, as well as Kos, out of Pireaus, and Liberian-flagged Tridonawati, both 154,000-tons, were loading. Several other ships were waiting in the Deep Water Anchorage "B" until coming alongside. Each tanker is inspected by coalition boarding parties, and then escorted to their berth at one of the two terminals. Berthing is accomplished with the assistance of tugs, which remain inside the security area when awaiting the next movement.
"Both berths at KAAOT are operational, however only one berth can be used at a time due to the capacity of the pipeline providing its oil," says Lieut. (j.g.) Blair Milo, assigned to Commander Destroyer Squadron FIFTY at Bahrain.
Renovations to the platforms have been funded by the Iraq Relief and Reconstruction Fund and administered by the U.S. Army Corps of Engineers Gulf Region Division. Improvements to ABOT include a new and highly accurate ultrasonic and turbo metering system, refurbishment of the loading arms and rigging, as well as fusible loop fire detection, gas detection, emergency shut down systems, nitrogen generation and installation of life rafts.
Crude is pumped to the ABOT via by a 48-in. undersea pipeline from the southernmost tip of Iraq's Al Faw Peninsula, the terminal has four berths capable of handling very large carrier type vessels and offloading 300,000-400,000 barrels per day on each berth.
ABOT is 10 nautical miles from shore and KAAOT is 5 nm. "Typically the terminal managers send the smaller tankers to KAAOT. It's nowhere near as busy as ABOT, and generally receives a ship around once every other week," Milo says. There is almost always a hazy horizon here. Nevertheless, from KAAOT, one can see dozens of dhows, the wooden boats common in the gulf, used for fishing and trading. Not much further away is the notorious "Sunken Crane," a landmark and a staging location for small boats from the Islamic Republic of Iran Revolutionary Guards Navy (IRGCN). Iran and Iraq dispute where the boarder is between the two countries where the Tigris and Euphrates rivers empty into the gulf at the Shat-al-Arab waterway.
"Yesterday you couldn't see anything," said Lieut. Will Best, originally from Nashville, Tenn., referring to the sand storm that cancelled flight and boat operations. "Everything was red. It was like Mars."
Coalition naval units maintain a vigorous patrol in sectors around the platforms. While the dhows are not considered a threat, the coalition doesn't allow any unauthorized traffic to get too close. Glance up at the horizon from anywhere on either platform and you will see a coalition patrol vessel. During my visit, the force included the Australian frigate HMAS Stuart (FFH 153); USS Firebolt (PC 10); USS Whirlwind (PC 11); USCGC Maui (WPB 1304); USCGC Adak (WPB 1333); flagship HMS Chatham (F87) as well as Iraqi Navy patrol boats.
USS Firebolt, with PC Crew Bravo aboard, based in Little Creek, Va., is one of the key combatants patrolling the area in the North Arabian Gulf to protect the vital oil platforms here. Lieut. (j.g.) Bryan Kendris is the executive officer. "Our job is to patrol our sector and keep the dhows out." Patrolling is usually done at moderate speeds, as it is doing now on just one of its four main engines, although the 330-ton Firebolt can achieve speeds in excess of 30 knots with all four engines operating.
Firebolt is well armed, with a MK 96 25mm chain gun amidships, .50 cal. machine guns-with an effective range of about two miles-and M240 7.62mm machine guns on the bridge wings. "It pumps out a lot of firepower," says Lieut. (j.g.) Mike Beer, the weapons officer, referring to the chain gun.
But more frequently the ships employ non-lethal means to keep craft away from the platforms.
Commanding officer Lt. Trent Thompson says Firebolt can warn vessels with five short blasts of the ship's whistle, then the Long-Range Acoustic Device, or LRAD.
"The LRAD tone is what works best," says Kendris. "Some times they can't hear the Arabic phrases and try to get closer to understand. That kind of defeats the purpose."
We also can fire 'cracker rounds,' like firing an M80 firecracker out of a shotgun. It makes a big flash and a loud noise," Thompson says. "It can get someone's attention."
"The fishermen out here don't have any navigation aids or GPS, so they can easily get into our sector without knowing it. Some of the dhows have bridge-to-bridge radios. But they don't answer to English. They aren't trying to cause any trouble. They're just here to fish," Beer says. "We send boarding teams over, and we give them water and first aid kits."
The Firebolt crew can employ a device called a Phrasalator which can play selected phrases in Arabic. The reply is then recorded and translated to English. "We also have cards with basic phrases in Arabic," Beer says.
"My goal out here is to bring some southern hospitality to these guys," says Thompson, a Durham, N.C. native, referring to the numerous dhows in the area. "They're just out here fishing."

About the Author
Lundquist is a senior science advisor with Alion Science and Technology and chairs the SNA Public Relations Committee.
(Reprinted from the August 2008 edition of Maritime Reporter & Engineering News)