Damen's Stan Tug 1205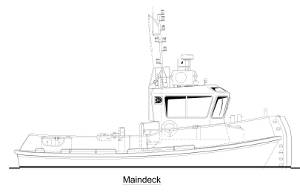 The development of the Damen Stan Tug range of workboats has a history that dates back to the formation of Damen Shipyards in 1969. In those early days, among the most important standard designs for serial production were the Pushy Cat and original versions of the Stan Tug. The Pushy Cat and the Stan Tug 1 were popular in the dredging and marine construction industries. The Damen Tugs & Workboats project team has decided to discontinue the Pushy Cat 1204 series and the Stan Tug 1404 and offer one new design in their place, the Damen Stan Tug 1205.

The new Stan Tug 1205 design has benefited greatly from the experience gained while producing the new Stan Tug 1606 and Stan Tug 1907. The Stan Tug 1205 evolved, a small, very compact and powerful vessel designed to carry out towing, mooring, transportation of passengers and pilotage duties. The first vessel was completed in late 2009 and has met or exceeded expectations in trials and tests.

The Stan Tug 1205 is a twin-screw vessel, measuring 43 ft in length overall, with a maximum beam of 17.3 ft, a depth (at sides) of 6.7 ft, an approximate draft (aft) of 6.5 ft and a displacement of approximately 55 tonnes. An all welded steel hull of rugged single chine construction uses 10mm thick plate in the sides and bottom and a 15mm sheerstrake. The hull form is based on the Stan Tug 1606 and incorporates a heavily built push knee in the bow and a smooth water flow to the propellers and nozzles. Incorporated in the hull structure are internal tanks capable of a accepting 1,453 gallons of fuel, 92.5 gallons of fresh water, 84.5 gallons of sewage and 79.2 gallons of bilge water.

Two Volvo D9 MH, diesel main engines generate a total of 644bhp (442bkW) at 1800 rev/min to drive the propellers via Twin Disc MG 5091, reverse reduction, gearboxes with a ratio of 3.82:1. These are clean diesels complying with the requirements of IMO and US EPA Tier II. They are compact, rugged engines, equipped with electronic fuel injection systems and twin turbo chargers, giving them outstanding acceleration and economy. Electrical power is supplied by a single Onan MDKBP-eQD auxiliary generator rated at 17.5kvA at 230 volts, 50 Hz. Two 24volt 200Ah battery packs, with a changeover facility is used for engine starting and domestic use. On trials, the first Stan Tug 1205 achieved a bollard pull of 9.0 tonnes and a free running speed of 9.8 knots.