Washburn & Doughty 80-ft Z-Drive Tug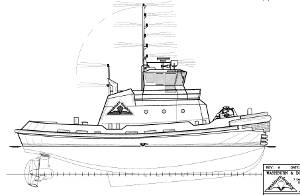 Washburn & Doughty Associates, Inc. of East Boothbay, Maine is pleased to unveil its new 80-ft by 33.8-ft Z-Drive Tug design. The vessel is designed for ship handling and harbor work. It admeasures less than 150 gross tons allowing it to operate without a load line assignment. The tug is designed to exceed ABS standards and customers can choose to specify ABS class.

The vessel—designed by Washburn & Doughty's Executive Vice President and Naval Architect, Bruce Washburn—draws on the knowledge gained by Mr. Washburn as lead architect of 62 vessels designed and built by Washburn & Doughty, including the yard's 92-ft and 98-ft Z-Drive Tugs. Twenty-one 92-ft Z-Drive Tugs and three 98-ft Z-Drive Tugs provide towing and escort services between Boston, Massachusetts and Port Arthur, Texas.

The vessel's clean underwater lines and two aft Z-Drives create the maneuverability necessary to be a truly versatile harbor tug. Design features include a wide beam to enhance indirect capabilities and stability. A broad bow will evenly distribute the "point-of-contact" load between the tug and the ship.

Because the tug is an in-house design, customers have the flexibility to easily modify the vessel to suit their particular requirements. The vessel is adaptable to any high speed main engines for 4,000-5,000 hp with matching Z-Drive units. The tug has straight line carbon fiber shafts. Customers can specify off-ship fire-fighting, a stern capstan and/or a bow winch.

The vessel can be arranged as a day boat or outfitted for round the clock operations with up to four staterooms for eight crew members. For 24/7 service, the design features a full galley, dining area and head with shower.

Washburn & Doughty operates from a new, state-of-the-art construction building. This spacious facility features a layout that maximizes efficiency and it is outfitted with modern shipbuilding tools and equipment. The building measures 42,000 sq. ft. and is designed for vessels up to 200-ft long by 50-ft wide. It features two construction bays, each equipped with two, twenty-ton cranes. A central mezzanine contains shop space—served by a 5-ton crane—and offices for production support, supervision, design and engineering.